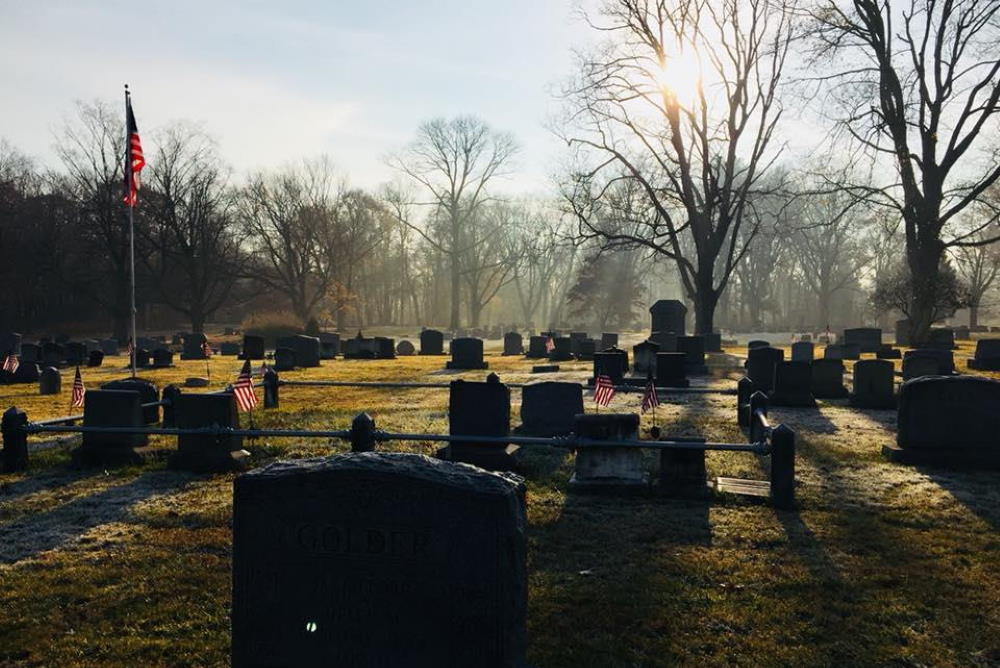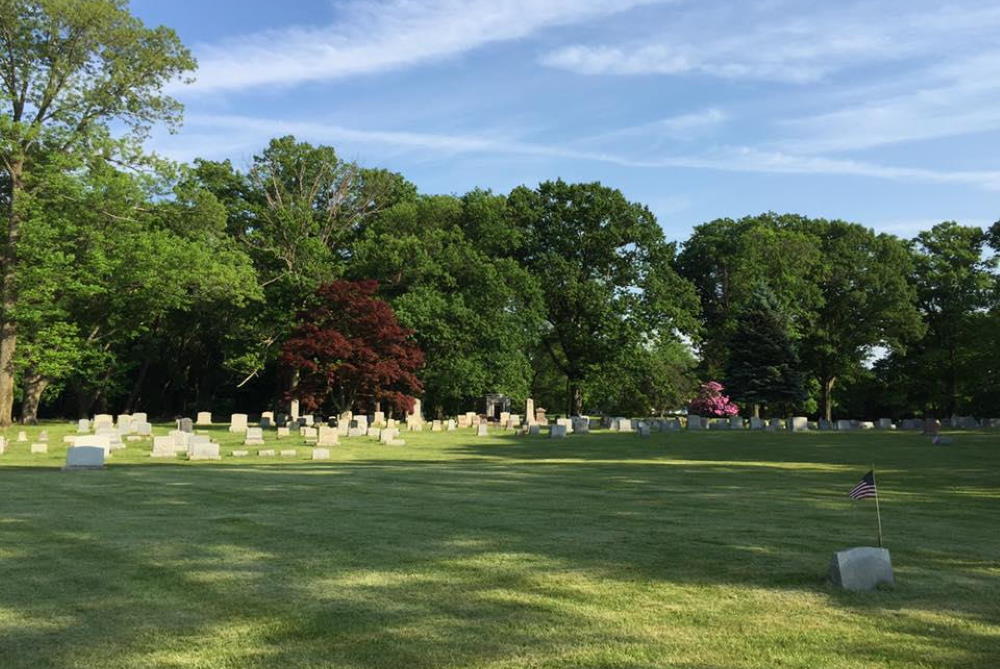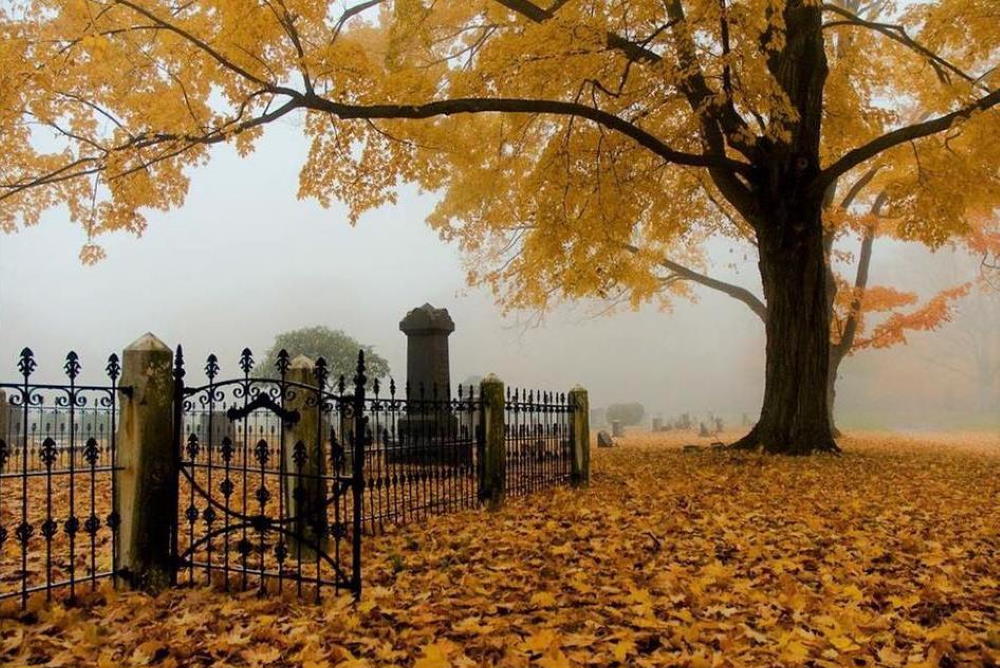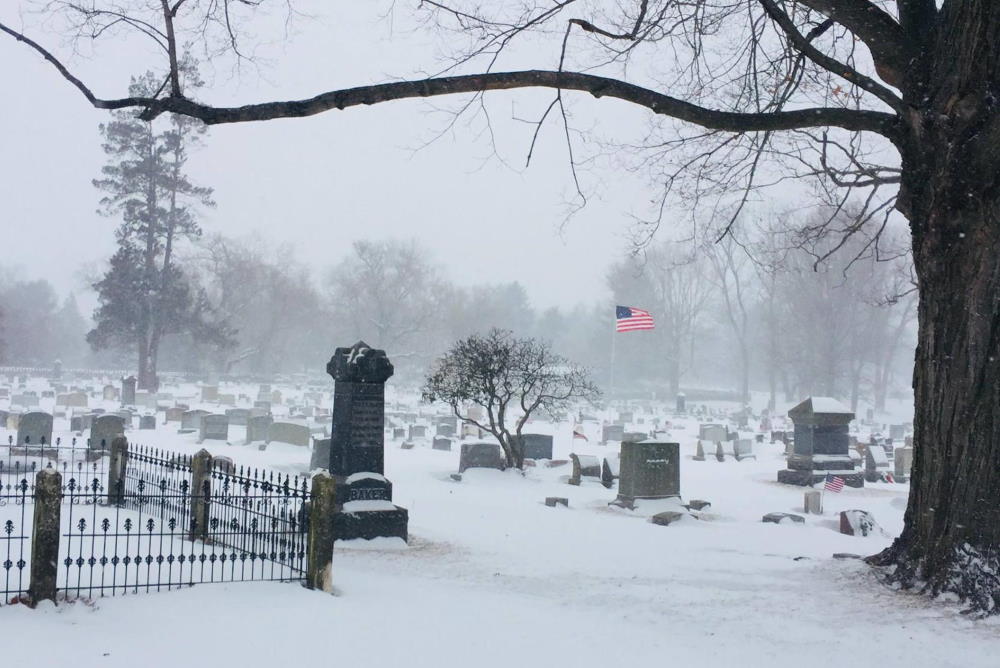 History of Cumberland Cemetery
Compiled by Eileen Fresta, Pennsylvania State University American Studies Major
~~~
1682 — William Penn grants 1250 acres of land to George Willard. The 1250 acres are comprised of several different pieces of land within the Commonwealth of Pennsylvania. A portion of Willard's land is a 250-acre plantation called "Cumberland." An 1882 map of Middletown Township shows "Cumberland Plantation" in the approximate location of Penn State Brandywine and adjacent to the Cumberland Cemetery. The original "Cumberland" Plantation is most likely the origin of the cemetery's name.
1687-1839 — Another settler named Roger Jackson purchases two hundred and fifty acres of the Cumberland Plantation from George Willard. The Cumberland Plantation is gradually divided and eventually sold to different parties. A portion of the original Cumberland Plantation becomes the property of the Worrall family.
1839 — Thomas Pratt marries Mary Worrall of Middletown Township. Thomas inherits a 3/4 interest in a 70-acre piece of property in Middletown Township from Mary's father. This 70-acre farm includes land that was part of the original Cumberland Plantation and other property including the land that comprises the Cumberland Cemetery today. Over time, Thomas Pratt adds to this farm, expanding his property. An 1870 map of Thomas Pratt's property indicates that he owned a sizable portion of the original Cumberland Plantation.
1854-1859 — Dates of earliest burials at "Pratt Cemetery." These dates are taken from handwritten records at the Oliver H. Bair Funeral Company office. It is not possible to determine if Thomas Pratt himself kept the records, or if they were reconstructed at a later date. Thomas Pratt is using a portion of the Middletown Township property as a burying ground.
~~~
1860 — Earliest newspaper record of a burial at "Cumberland Cemetery."
April 1870 — Mary Worrall Pratt dies, leaving behind seven children and her husband Thomas Pratt.
June 1874 — Thomas Pratt marries Sarah Johnson of Middletown, Connecticut.
July 8, 1880 — Thomas Pratt signs his Last Will and Testament, leaving the following specific bequests to each of his seven children:
William J. Pratt — 26.5 acres of land and the buildings thereon, situated in Middletown. The will also states that William would be responsible for satisfying a $1000 bond on the property. William is also given the 7-acre property known as the Iron Mine.
Anna Mary Pratt Byers — House and grounds on Plum Street in Media and a piece of property in Media on the corner of Second Street and North Avenue.
Elizabeth W. Pratt Darlington — $5.00
Hannah Pratt Darlington — $5.00
T. Minshall Pratt — $5.00
Peter W. Pratt — $5.00
Emma Pratt — $5.00
February 16, 1883 — Thomas Pratt signs a Codicil to his Last Will and Testament, revoking the 26.5-acre land bequest to his son Thomas and stated that the land would instead pass to Sarah Pratt upon his death.
March 5, 1883 — Thomas Pratt dies.
~~~
March 9, 1883 — Obituary from The Chester Times:
Thomas Pratt, aged 66 years, of Media, died suddenly on Monday last, after driving from Media to his late residence in Middletown, in company with his son. On arriving at the latter place he complained of being cold. He was carried into the house and expired soon after of a congestive chill.
March 6, 1883 — Sarah Pratt is granted Letters Testamentary, naming her as sole Executrix of the Estate.
March 31, 1883 — Sarah Pratt files an Inventory and Appraisement of the estate's personal property (the appraisal is certified by professional appraisers). The total value of personal property is claimed as $3,182.48. The real estate holdings will be appraised by December 1884.
February 4, 1884 — Sarah files an inventory with the Delaware County Orphan's Court. The inventory lists items of Thomas' personal property that she is electing to keep for her own use — a widow's exemption allowed under law. Total declared value is $300.00 and includes preserves, jellies, washtubs, potatoes, furniture, beds and mattresses, etc.
September 1884 — Two of Thomas' children from his first marriage — William J. and T. Minshall — acting as Administrators of the Estate of their mother Mary Pratt, file a complaint against Sarah Pratt and the Estate of Thomas Pratt. A description of the case follows, taken from The Chester Times issue dated September 23, 1884:
PRATT VS. PRATT.
The first case on the trial list, Pratt vs. Pratt, occupied almost the entire day, and was not concluded when court adjourned at six o'clock. This is a peculiar case, and Its occurrences date away back to 1840 and '42. The children of the late Thomas Pratt by his first wife, claim that he (Thomas M.) secured money for property and stocks belonging to his first wife in her own right, which he never paid her or her heirs. Thomas Pratt's first wife died about thirteen years ago and Mr. Pratt married a second time, and when he died, a little over a year ago, he willed all the property in his possession to his widow. She is the executrix of her husband's will, and the children of the first wife are suing her for the amount of this property and stock, which they claim rightfully belongs to them. They also claim that the Chester creek farm, now in the possession of the widow Pratt, was the property of the first wife …

… Mrs. Darlington [daughter of Thomas and Mary Worrall Pratt] said that she had frequently heard her mother ask father for her dividends and rent from the property in dispute. It was a constant source of trouble between them and during the years of her mother's life they lived very unhappily.

… Edward A. Price, in his opening for the defense, said the plaintiffs had waited until nearly everybody who could throw any light upon this case was dead before suit was instituted. They called several witnesses who lived at the Pratt farm as farm hands and had taken meals there, never hearing any dispute between Mr. and Mrs. Pratt about money matters. All testified that they lived in harmony. Six o'clock arriving the court adjourned until this morning.
December 1, 1884 — William J. and T. Minshall Pratt are awarded a judgment against Sarah Pratt and the Estate of Thomas Pratt in the amount of $14,596.60.
December 29, 1884 — Thomas Pratt's real estate holdings are appraised for $17,591.00. Real estate and personal property combined are valued at $20,773.48. Sarah lists the expenses, debts owed, etc. with a total of $24,992.70 — a shortfall of about $4,100.00. The $14,596.60 judgment against the Estate is included in the list of Estate debts.
December 31, 1884 — Sarah files a Petition in the Orphans' Court, stating that the personal estate of Thomas Pratt was insufficient for the payment of his debts, and asks the Court to " … order the sale of such part or so much of the said Real Estate as to the Court shall appear necessary for the payment of the debts of the said decedent … ".
January 5, 1885 — The Orphan's Court of Delaware County issues an Order and Decree allowing Sarah to sell the real estate in an attempt to raise $17,500.00.
January 6, 1885 — from The Chester Times:
"… the Estate of the late Thomas M. Pratt, of Middletown … the following order was made by the court:

And now, January the 5th, 1885, be it ordered that the executor of the will of Thomas Pratt be authorized to raise $17,500 by sale of the decedent's real estate; lands not specifically devised to be sold first. If sufficient money is not realized from the lands not specifically devised, then proceed to sell all the lands specifically devised.

The estate comprises altogether nine tracts, five of which have been specifically devised. The debts of the estate amount to nearly $18,000, and it will require a large bulk of the property to wipe them out. The estate will be advertised extensively in all the county papers and will probably be sold during February or March."
February 26, 1885 — Sarah Pratt begins to sell property at public auction.
February 27, 1885 — A description of the auction taken from The Chester Times of February 27, 1885 follows:
"A portion of the estate of the late Thomas Pratt was sold yesterday in Middletown at public sale … Seventy acres, without buildings or improvements of any kind, sold for $7,215 to a syndicate of five gentlemen, among whom were Horace P. Green, T. Green, both of Media, and John J. Tyler and Thomas Sharpless … Auctioneer Green also sold 175 lots in Cumberland Cemetery, belonging to the Pratt estate, from prices ranging from $1 to $8 per lot, according to size and location. The entire number were sold."
March 5-April 14, 1885 — Sale is finalized for Thomas Pratt's 3/4 interest in the 70-acre "plantation" in Middletown. Thomas Pratt's children from his first marriage finalize the sale of the remaining 1/4 interest in the property. This 70 acre segment of the Pratt Plantation was purchased by a group of five businessmen: Horace P. Green, Townsend F. Green, James M. Smith, Thomas J. Sharpless, and John J. Tyler.
March 12, 1885 — from The Chester Times:
Estate of Thomas Pratt, deceased; return to order of sale filed and confirmed. Decree made.
April 1885 — Articles of Incorporation are filed with the Pennsylvania Department of State for The Cumberland Cemetery Company.
May 2, 1885 — James Smith, Thomas Sharpless, John Tyler, Townsend Green, and Horace Green transfer ownership of a seventeen-acre parcel of the Pratt Plantation to the Cumberland Cemetery Company for the sum of $1.00.
May 1885 — The Cumberland Cemetery is officially open for business. The following article appears in a May 13, 1885 issue of The Chester Times:
A NEW PLACE OF BURIAL
A new place of sepulture, know as the Cumberland Cemetery, is a very finely located burial ground. It is situated in Middletown Township, and is part of the estate of the late Thomas Pratt. In February last Townsend F. and Horace P. Green of Media, James M. Smith, John J. Tyler and Thomas Sharpless, of Middletown, purchased the farm consisting of seventy acres and then sold all but eighteen of them, which they reserved for the new cemetery. A charter was granted by the court on April 6. The property will be laid out in lots, with avenues running to all portions of the grounds. The front of the cemetery will be embellished by a stone wall, on which an iron fence of suitable pattern will be mounted. It is thought this place will soon be come popular as a place of interment. It is on high ground, commands a fine view, and will make a fit spot for the living to place their dead. It is only a short distance from Chester. The officers of the association are J. M. Smith, President, T. J. Sharpless, Treasurer, Horace P. Green Secretary.